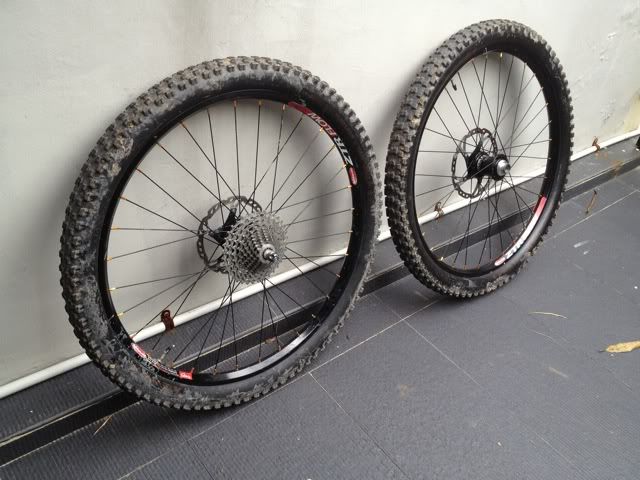 Off Road Bike Tire Pressures
Generally, the tire pressures for off-road bikes depend on the the following factors:
1. Volume of tire
Larger volume tire require lesser tire pressure, while smaller volume tire require higher tire pressure. Depending on the types of ride, the volumes of MTB tires varies according to the types of bikes. Generally, the tires of XC bike have smaller volume than trail and AM bikes, while that of DH bike have the largest volumes of tires.
Recommended tire pressures for off road bikes:
XC Bike: 1.85 to 2.0 (>35psi)
Trail Bike: 2.0 to 2.2 (30psi to 35psi)
AM Bike: 2.1 to 2.4 (20psi to 30psi)
DH Bike: 2.5 to 2.7 (18psi to 25psi)
2. Weight of the rider
Heavier rider require higher pressure. The recommended tire pressures as illustrated above are based on 140 lbs to 150 lbs riders. You may want to vary the tire pressure to suit your weight and ride.
3. Types of terrain
Lower tire pressure is more preferred in wet terrain to provide better traction and minimize slipping. Generally, if you are riding an AM bike under wet condition, adjusting the tire pressures to 18 psi for tubeless tire may not be uncommon. My favorite tire pressures for AM bike in wet condition is 18psi for front tire (Nevagal Tubeless 2.35) and 20psi for rear tire (Nevagal Tubeless 2.1). For dry condition,, I prefer 22psi for front tire and 25psi for rear tire.

4. Types of tires
Generally, tubeless tires require lower tire pressures than tube tires. Depending on all of the above factors, pump the tire pressures according to your comfort level. If speed is your priority, go for higher tire pressure but you will sacrifice traction. If the terrains are very rocky, too much pressure may bounce you off your saddle while too low pressure may puncture your tires. Try to experiment the ideal tire pressure that best suit your weight, the riding terrain and the types of ride you want. For XC bike, I prefer 35psi for both tires (XR3 2.2 tube tires) in normal trail condition.

Road Bike Tire Pressures

The tire pressures for road bikes are simpler and straight forward. The tubes are generally very thin and speedy is normally the priority. The recommended tire pressures for road bikes are as follows:
(1) 110 lbs: 95-105 psi
(2) 140 lbs: 105-115 psi
(3) 170 lbs: 110-120 psi
(4) 200 lbs: 120-130 psi
(5) 230 lbs: 125-135 psi